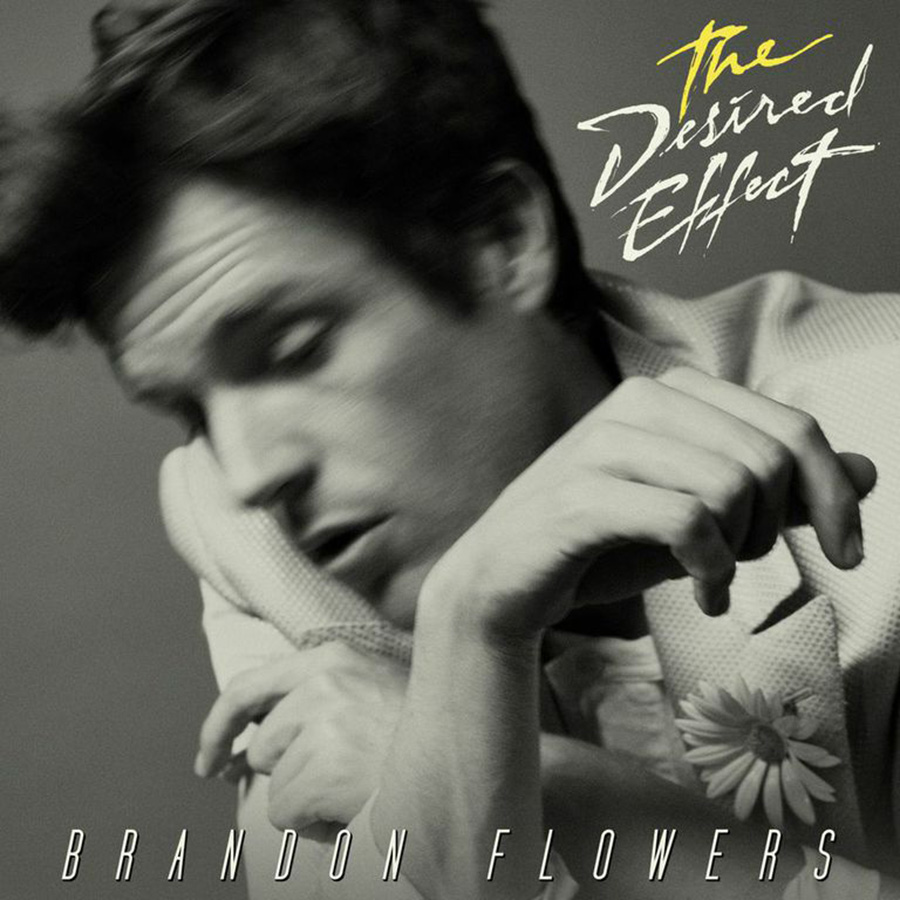 Notable frontman for The Killers, Brandon Flowers, just released his second solo album, The Desired Effect.
Check out the (somewhat) full review below!
I've been a fan of Brandon Flowers for years now. Ever since I first heard, Hot Fuss, by The Killers back in 2004, I've loved the style The Killers have when it comes to music. Even more so, I love Brandon Flowers voice. There's something about it that has a subtle, controlled shakiness that works really well in a bunch of their songs.
In 2010, when Flowers released his first debut solo album, Flamingo, I was not surprised at all by it. It was nice to see him depart from the band and see what he could create by himself. As a solo artist, Flowers has the ability to stand off on his own.
Back in April the first single, "Can't Deny My Love," from The Desired Effect was released. I was instantly hooked. Even the artwork for the single was great (something I look far too into). Following, "Can't Deny My Love," "Still Want You," "Lonely Town," and "I Can Change," were released. None of the other singles could top "Can't Deny My Love." It took me a couple listens from all the singles respectively to "like" them.
The Desired Effect. I love this album title. The album cover sets this hazy vibe of an unrequited love. I'm a sucker for album titles and artwork. From a more artistic perspective, I believe that the two should encompass what the album is about, and therefore should be given a lot of thought.
The Rundown: 
A boisterous introduction to the album with, "Dreams Comes True," gives insight to the album having a nice mixture of instrumentals and strong vocals. A loud start to the album leads into my *favorite* song, "Can't Deny My Love." This is one of the strongest tracks off the album and is SO good. From the lyrics to the instrumentals, it brings joy of how great of a song this is. The chorus is something you'll find singing to yourself…very loudly.
You're not gonna, not gonna deny my love/You can't deny my love
In "Still Want You," we get an 80s synth vibe. Influenced from the past, "Diggin Up the Heart," will make you dance and gives a retro vibe. "I Can Change," continues this nostalgic influence and the lyric video best shows a visual mashup of what this album sounds like.
I can bend, I can break, I can shift, I can shape
Blaze a trail through the driving rain
Girl, I can change for you
YES BRANDON FLOWERS CHANGE FOR ME. 
If you needed a modern example of what pop rock sounds like…this album is it. All of the songs have certain elements that make the tracks all unique yet still bound to a unified sound. Several tracks feature bold backing vocals that make me envision what the live set for this album will be like. I can see it complimenting Flowers so well and making a strong live performance, especially in, "Lonely Town."
Notable Tracks:
Can't Deny My Love
I Can Change
Lonely Town
Never Get You Right
Final Thoughts?
The Desired Effect proves that Brandon Flowers is a great solo artist. This album is step up from Flamingo, and I'm impressed with how well the production is. Songs off the album are already in constant rotation of songs I'm currently listening to. I don't see that changing anytime soon. A great solo album altogether.
Want More? Go buy the album! 
Brandon Flowers is going on a U.S. tour this summer and released the list of dates! Check them out here and see if he's coming to your area! I'll be the Norfolk, Virginia show! *fan girls*