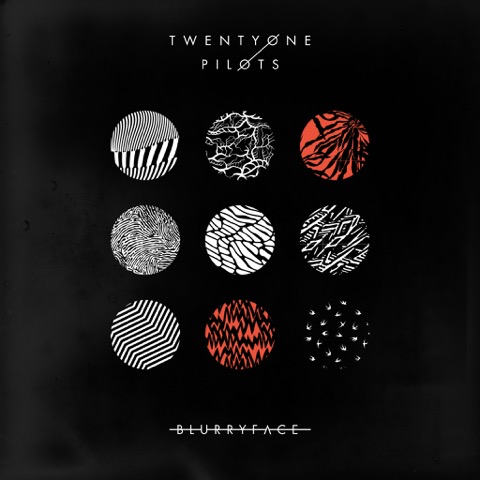 Columbus, Ohio's favorite duo, Twenty One Pilots, just released their newest album, Blurryface, via Fueled by Ramen. You'll actually want to listen to it again and again….and again.
Click below for the (somewhat) full review! 
I will say this once: this review is biased. If you know me, you know that I LOVE Twenty One Pilots. They are arguably one of my favorite bands…ever. In my three years of knowing of their music & seeing them love, I have a strong admiration for this band. Keep that in mind as you continue reading.
Blurryface is not a concept album, but definitely has a concept surrounding it.
Blurryface. A name that creates a visual of something familiar, yet not there.
The preface to the album's fruition was very interesting and had a great marketing scheme surrounding it. The band has a great relationship to their fans and connects with them in ways only they understand (for a lack of better words). Through various teasers, leaks, and almost cryptic messages, the album was announced earlier this year. The following songs were released approximately one week after another: "Fairly Local," "Tear In My Heart," "Stressed Out," "Lane Boy," and "Ride."
If you're not familiar with Twenty One Pilots' music, they have an interesting sound. They infuse just about every genre you can think of into their music. More notably, electronic/pop mixed with hip hop that somehow works really well in their favor. I, myself was skeptical at first if this album would encompass that genre bending confusion again with Blurryface. It does. Literally, every song on this album has some type of melody change, time change, etc. that is expectedly unexpected.
I could go on for days about each track and analyze the lyrics down to their core. I'll spare you the book long analysis and give my brief thoughts on the tracks that really stand out.
The Rundown:
The album is a rollercoaster of pacing and sounds. "Heavydirtysoul" starts off the album in a whirlwind and sets the tone. What started out as a poem from 2013, singer Tyler Joseph, transformed it into a full out song that gives the album a jaw-dropping start. For fans who are familiar with the poem, it was exciting to see more depth and expansion on something that was originally one minute long. Following the first track, more "lighter" songs follow including "Stressed Out" and "Ride." Being the third "single" off the album, "Stressed Out" was released when majority of college kids were taking their finals and became an tiny anthem for me when I was studying at 3am. A reminiscent song about easier times prior to growing up is the common theme for this song. A video was released alongside the song and better explains the concepts of family and relationships it touches base on. Released just last week, "Ride," is perhaps the most radio friendly single that's been released so far. Having some reggae influence, the more mellow track has a chorus that's really catchy to singalong to.
"Oh ooo oh oh I'm falling so I'm taking my time on my ri-i-i-i-i-deeee oh oh oh oh." 
Another song influenced by more reggae sounds is "Lane Boy." One lyric in the song strikes a nerve that can be best explain in this blog post by my friend Elyssia. Besides that, I can tell that this song will be incredible live. Towards the latter half of the song, the drumming intensifies and becomes very fast paced that makes me want to dance while listening to it. In this small section of the album, both "Lane Boy" and "Fairly Local" have themes around the music industry as a whole. Prior to the release of this album, you can tell that Tyler Joseph and Josh Dun were a bit hesitant when releasing some of these songs. Now that they have a bigger audience to attract to, this fear of staying within one genre or making 'X' type of music was a bit of an issue for them. Both "Lane Boy" and "Fairly Local" call out the "industry" in some way.
"This song will never be on the radio,"
Joseph says in "Fairly Local" and him rapping,
"In the industry it seems to me that singles on the radio are currency,"
in "Lane Boy" show some of this frustration. Even though this is technically Twenty One Pilot's fourth album, Blurryface, is their second label released album on Fueled by Ramen. The "sophomore slump" mentality may have had some influence when trying to construe a record that was true to their sound but pleased their record label and critics. 
The middle of the album really  showcase some of the best songs Joseph and Dun wrote. "Doubt," "Polarize," and "Message Man" are definitely top favorites of mine. Lyrically, they're all very insightful; especially in Polarize when Joseph sings,
"Domingo en fuego, I think I lost my halo."
–Really listen to that line. One thing I've always admired about Twenty One Pilots is their lyrics and how personable they are. All the songs on the record at one point touch on sensitive topics, yet they are usually masked with an upbeat sound or cheery melody. I really like that juxtaposition because it pulls you in first with its sound, then keeps you intrigued by the lyrics.
The closing track of the album, "Goner," is filled with A LOT of emotion. Originally a demo from 2013, "Goner" was first based off accordion. In re-doing the song, the accordion was replaced with piano, sung a little fast and incorporated screaming. When I tell you, you'll feel some raw emotion in this song…it'll hit you hard.The whole album has an ongoing them of a fight or struggle (named Blurryface by Joseph and Dun) that takes different forms throughout different songs.  Such a beautiful yet haunting track to end the "fight" of Blurryface that is reminiscent to "Truce," the closing track from Vessel (the band's previous album).
Notable Tracks:
Ride
Fairly Local
The Judge
Polarize
Message Man
Final Thoughts?
This album isn't for everyone. This sound is unique to all the genres it touches on but it does create a great composition all together. The lack in smooth transitions between songs may have you ask yourself what song you're listening to. However, I think that Twenty One Pilots keep topping themselves and are making better and more different songs. You can tell a lot of thought went into this album, and I appreciate its eclectic sound. Ever since the band leaked the album themselves, I haven't stopped listening to it. These songs will also be amazing live. You can feel it. I love it.
Want more? Go buy the album!
Twenty One Pilots are playing a handful of festivals this summer around the U.S. and also announced a big fall tour with Echosmith! They'll be performing in the U.S. and also in Europe. Shows are already selling out so be sure to check out the dates here to see if they'll be in your area!
**The two D.C. shows will be lit**