This weekend through a series of spontaneous events, I was able to attend Sweetlife Festival in Columbia, Maryland! I'd like to give a shoutout to Culture Collide for the tickets! I had an interesting mentality to this festival prior to the festival: I would only go if I won tickets. Luckily that's what happened.
On Saturday morning at 5am, myself and my Jeep headed out on a mini road trip for the weekend.
DAY 1
I took a shuttle to the venue the first day because I did not feel like driving through DC and into Maryland (not to mention the traffic trying to get out of the venue). I arrived just in time to catch The Bots. The two piece were very energetic and put the day off to a great start. I wondered around the venue, just trying to see what all was available. I also kept an eye on the logistics of the whole festival. Being that I want to run a festival of this size one day, I was intrigued by seeing the set up of it all. It was actually weird just attending a festival as opposed to working one!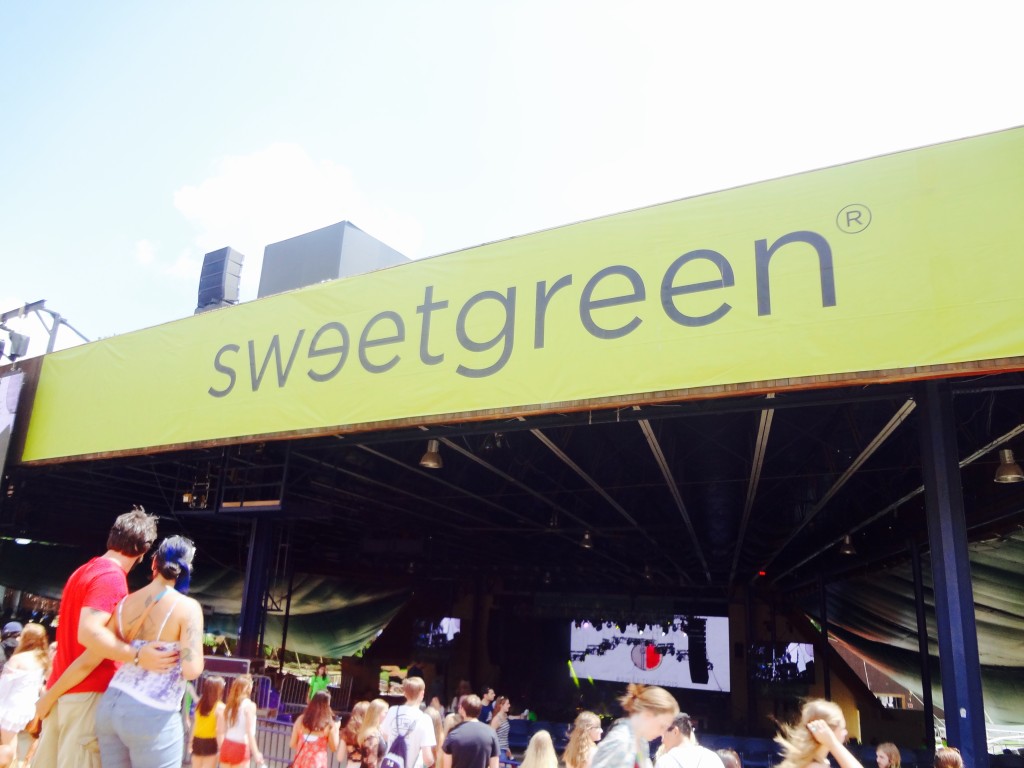 View from the lawn of the main stage!
After The Bots, I excitedly watched Misterwives perform! I've been a fan of these guys for a while now & FINALLY saw them live. Lead singer, Mandy Lee, was sick during the performance but you could not tell that from how her voice sounded! If that was her sick voice, I can only imagine how glorious she sounds when she's well! They played some of my favorite songs from their debut album, Our Own House, including "Hurricane," "Imagination Infatuation," and "Reflections!"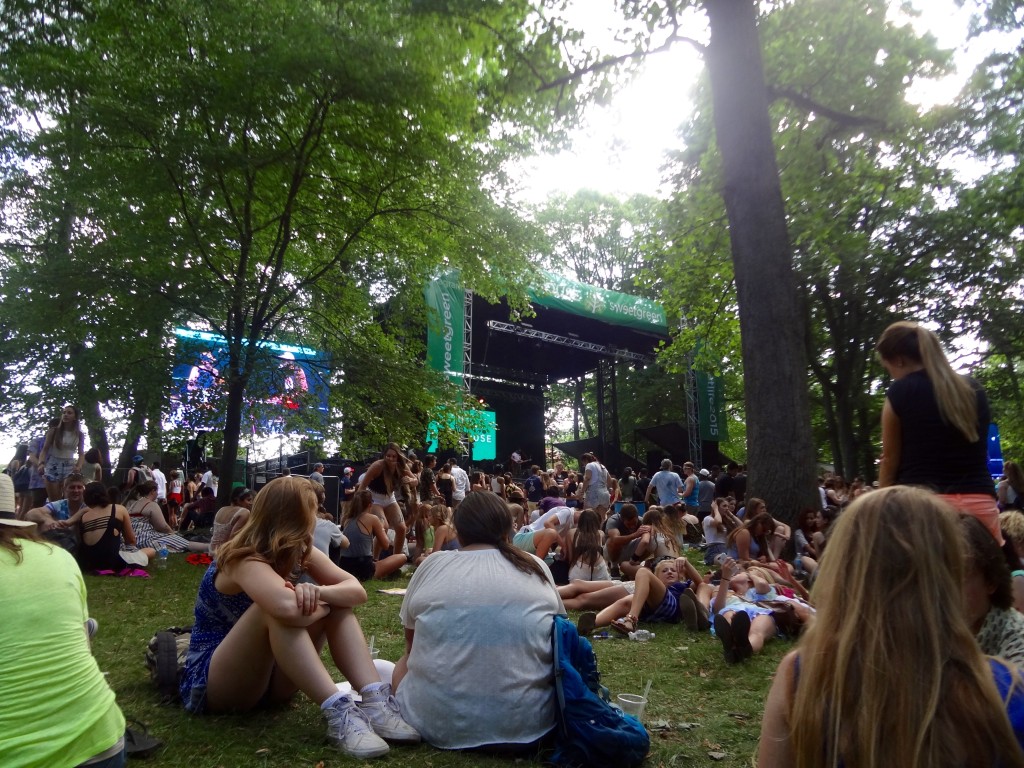 View from the Treehouse stage!
During the first day of Sweetlife, I also checked out SZA (now obsessed with her), Allen Stone (amazing voice), Bleachers (for the third time), Billy Idol (legendary), and one of my favorite rappers…Kendrick Lamar.
Now, along with Misterwives this is one of the sets I was most excited for. I've been wanting to see Kendrick live for some time now. I was able to watch his set under the pavilion and it was a pretty good spot considering I just had a GA ticket. The entire set was so much fun and he performed some of my favorite songs including, "Backseat Freestyle," "Alright," "A.D.H.D." and of course…"m.A.A.d city."
This song made the entire set 10x better and it was definitely the song the crowd got the most hype for. After performing the song once, Kendrick brought a fan up on stage to rap the verses with him. SO COOL. 
There were a handful of moments during the set where I was just in awe and couldn't believe that this was all happening.
The performance was great. Moments like Kendrick's set that remind me why I pursue this music thing. ?

— Amira Taylor (@ataylor28) May 31, 2015
I couldn't have imagined ending Day 1 any other way!
Day 2
I woke up sore, tired, and wondered how I was going to make it through another day. I drove to my friend's apartment where I would carpool with her and her friends to the venue (yay for not being alone on Day 2). We got lost approximately three times trying to get to the venue, but made it in time for Raury's set. Sadly, I just missed HOLYCHILD's set, but I'd prefer to see them in a small club venue anyway. Despite being 10 minutes late to his set and ending early, Raury was really good and I definitely would see him again.
After the set, I wondered around some more and discovered more glorious food trucks. I even caught up with my twin, Nicole! We failed to find each other on Saturday, but I ran through the lawn (literally) to talk to her before Charli XCX's set.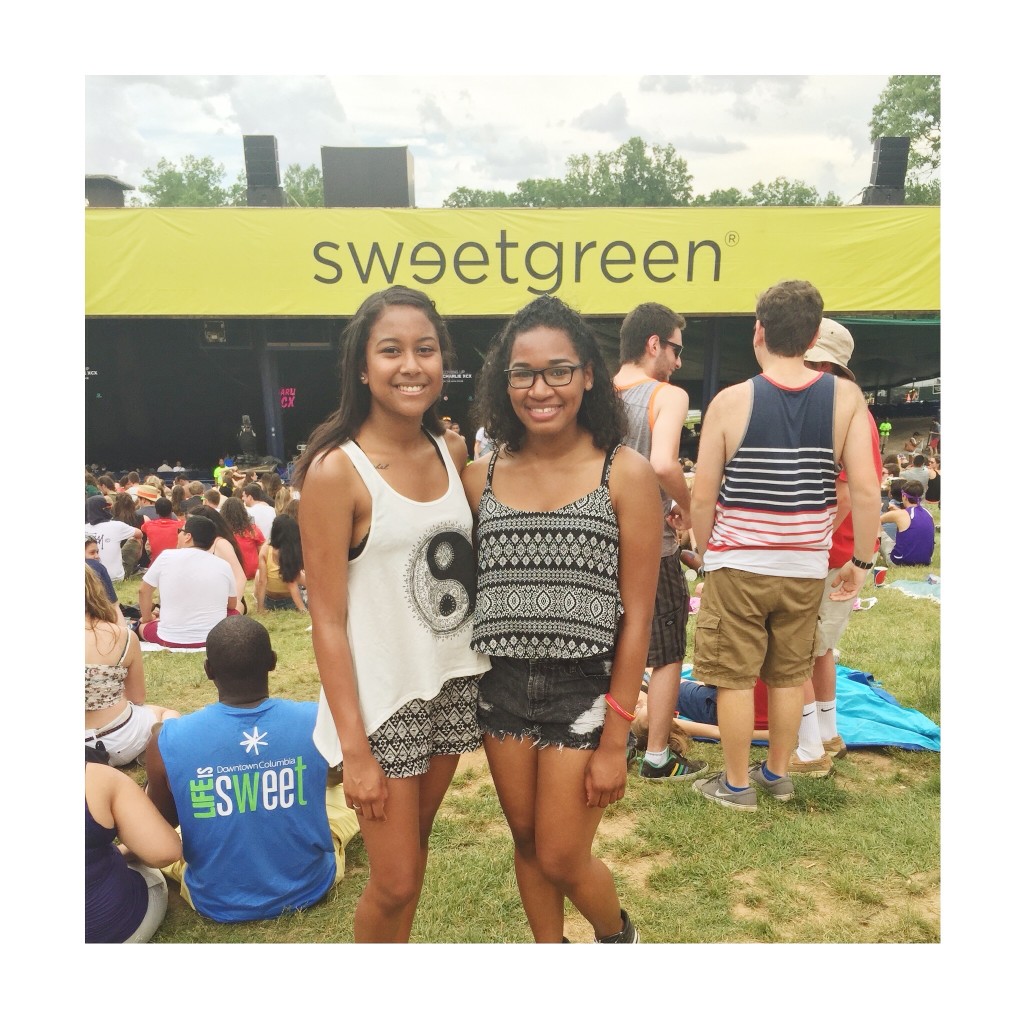 Peep that Instagram filter 
For Day 2, I had to make *difficult* decision on who to see. Charli XCX and Wet played at nearly the same time and so did Marina and the Diamonds and Banks. I chose to see Charli XCX since my friend and I had a good spot under the pavilion. If I were to ever be a "pop" singer, I think I'd want to be like Charli XCX. She's so punk and girly at the same time, I love it!
Following that I checked out a little bit of Phantogram's set on the main stage (Black Out Days was perfection live) and headed to over to the Treehouse stage for Vic Mensa's set. To be honest, I was expecting a tad bit more from his set, but I still had a good time. He performed "Down On My Luck" which was been a favorite of mine the past few months and even did a solid cover of  Kid Cudi's "Pursuit of Happiness."
I was in the middle of the pit for Vic Mensa's set. I realized that after him, Banks would be performing. I've seen Banks two times before and there was a point in time for about 3 weeks I listened to her album, Goddess, everyday…literally. I'm also a big Marina and the Diamonds fan but haven't gotten around to listening to the new album, Froot, yet. Since I was already at the Treehouse stage I decided to stay for Banks.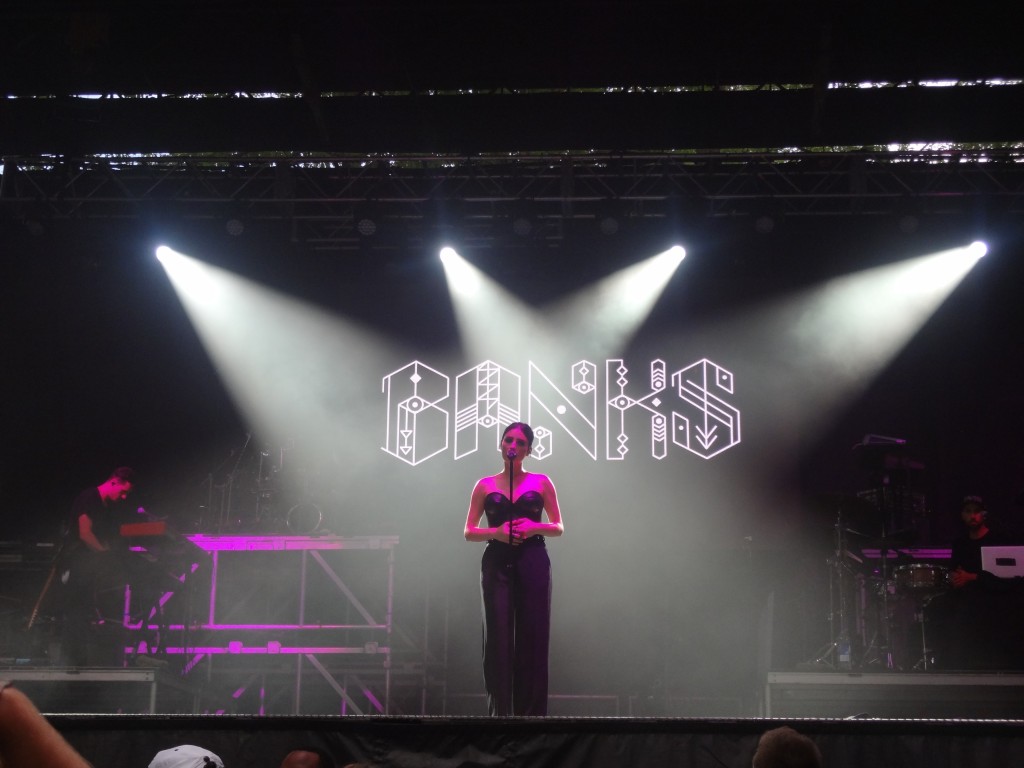 Look at how perfect she is
Banks was simply amazing. She looked killer in a black corset and pants. Her setlist included, "Brain," "This Is What It Feels Like," "The Waiting Game," "Beggin For Thread," and my favorite song of hers, "Change." I was (badly) screaming/singing along to the songs as the set continued. On the LED screens by the Treehouse stage, they showed Marina's performance while the set change was happening. I was able to see her perform "I'm A Ruin" which was too nice. I'm hoping I'll be able to see her on tour in the near future!
Proceeding Banks on the Treehouse stage would be The Weeknd. The pushing in the pit increased and I soon realized The Weeknd's fans are really aggressive. I'm familiar with a good portion of his music (mainly the Trilogy) so I still enjoyed his set a lot. His backing band sounded really nice too. It was funny because this girl that I didn't know made like a pact to protect each other/support each other from all the pushing during the set. He performed songs such as, "High For This," "Wicked Games," "Often," "Love Me Harder," and "Earned It." All the teenage fangirls screamed especially loud during "Earned It."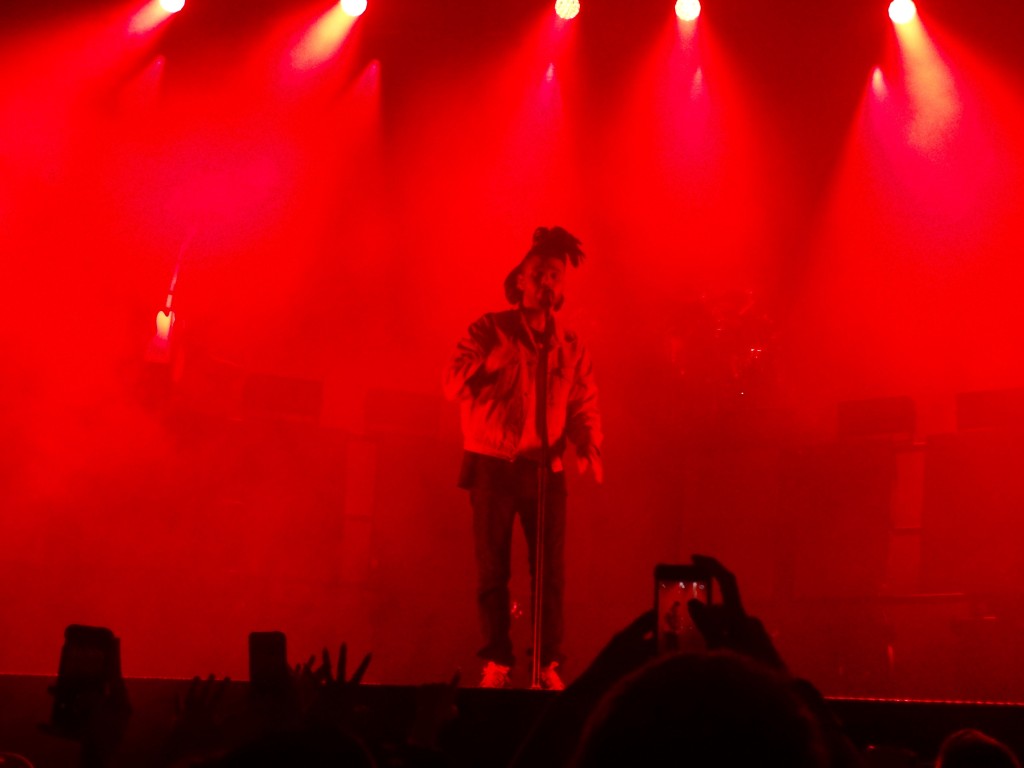 Wassup Abel
I believe that The Weeknd's set started earlier than scheduled so by the time it had ended, Calvin Harris' set was still going on. It was so cool to see literally thousands of people dancing on the lawn to the music. I was amazed of how much fun it was. If it couldn't have gotten better, THERE WERE FIREWORKS. FIREWORKS AS THE SET ENDED. WHAT?! It was magical. 
The Weeknd. Calvin Harris. Fireworks. Perfect end to #sweetlife2015! ?

— Amira Taylor (@ataylor28) June 1, 2015
I had such a fun time at Sweetlife 2015 and am glad I made an impromptu decision to go! Who knows…maybe next year I'll be helping run the festival.