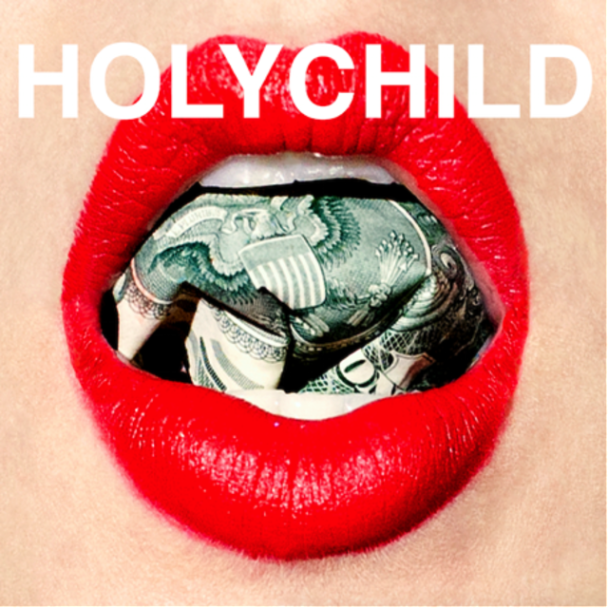 L.A.'s favorite brat pop duo, HOLYCHILD, just released their debut ablum, The Shape Of Brat Pop To Come via Glassnote Records. The debut is in your face and loud, but you'll want it that way when you take a listen.
Click below for the (somewhat) full review! 
When it comes to pop music, most would think of "superstars" such as Katy Perry, Lady Gaga, Taylor Swift, etc. However, there's a side of pop music where hidden treasures such as HOLYCHILD exist. This form of pop music can be vibrant, feisty, and experimental. The Shape Of Brat Pop To Come (TSOBPTC) embodies all of these characteristics in a perfect blend. Quite literally, this album showcases the shape of "brat pop" and what it sounds like.
I've been onto HOLYCHILD for over a year now. I believe I was first introduced to them via Tumblr (hey) and started listening to their EP Mindspeak that was released in 2014. Songs such as, "Happy With Me," and "Pretend Believe," are fun to listen time and were perfect for the summer. As they started to build more momentum, I became excited for what their full length debut would be like. In the beginning of 2015 the first single off the record, Running Behind,was released. The single grew in popularity when it was featured in the commercial for the Apple Watch this spring.
I really love HOLYCHILD's aesthetic in their music and persona. There's this DIY, 90s/early 00s pop influence that protrudes a great confidence in their music, live shows and videos. For the next single, "Money All Around," the music video gives insight on what it means to have money and the culture around it. Fame. Indulgence. Beauty. All themes within this song that expand to the album as a whole.
The Rundown:
TSOBPTC starts off with, "Barbie Nation," a track that gives an insightful view on living in a state of falsity. Seeing this as how you're constantly viewed by the world and that you have to deal with it in order to succeed or have fame.
Just make your body nicer / Stand up taller, the world is watching you
"Nasty Girls," has a chorus that I want to sing aloud so much. A very bubblegum pop track that should have been in the Clueless soundtrack if this were 1995 again.
We're all just dreamers

Living like we've won

Riding some high until we're done
HOLYCHILD tends to use a variety of instruments and beats to round out their sound. Synthetic drums, trumpets, distorted keyboards, small children in the back vocals…there's quite a few different elements going on in each song. Within, "Running Behind," the percussion is more prominent; "Money All Around," features a lot more bass (that probably sounds amazing live).
One of my favorite moments in TSOBPTC is the latter half of the album. "Monumental Glow" hands down is my favorite song on the whole album. The first time I was listening to this album, I was half asleep (it was a long day!) but I immediately had to see what this song was called when it came on. It drew me in from the beginning and that's when I knew this album had something special about it. Following that, "Plastered Smile," has a pleasantly noisy tone to it that focuses on the theme of faking it for others.
These doses of taking a shot of Hollywood, celebrities and the dark side of the "industry" shows how HOLYCHILD plays into the fame but also realizes what damage it can do. It's quite a smart concept and angle from their end when creating these songs about such matter. The duo just released a behind the scenes video briefly showing the making of this album and they give a little more insight on such aspects.
The progression of the album until the end, leaves us with a banger. "U Make Me Sick," lets us hear that HOLYCHILD can be in your face, raunchy, and somewhat thought provoking. Its a controlled mess that's great as a closing track. I can only imagine how they'll turn these songs in a live show. I envision confetti, sequins, crop tops, and platform sandals. I'm here for it.
Notable Tracks:
Nasty Girls
Money All Around
Monumental Glow
Plastered Smile
Diamonds On The Rebound
Final Thoughts?
This album delivered more than I expected by far.  It's as though HOLYCHILD is redefining how I see pop music as a whole. Bringing a more alternative, indie side to things it doesn't seem generic like mainstream music. However, when it does have hints of being generic its intentional. HOLYCHILD has a grasp of how they want to sound and by the end of the album we see that vision full circle. Liz Nistico and Louie Diller outdid themselves. *proud fangirl moment*
Want more? Go buy the album!
HOLYCHILD will be playing some music festivals this summer before heading out with Walk The Moon for some tour dates in the fall! Check out the dates here to see if they'll be in your area. I'm hoping they announce more dates soon!