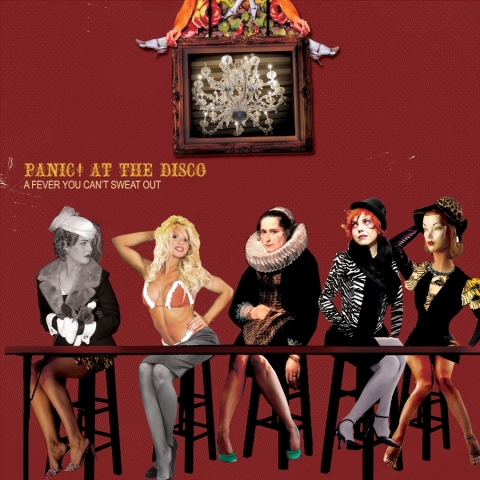 A Fever You Can't Sweat Out. 
An album released on September 27, 2005 by Panic! At The Disco via Fueled By Ramen/Decaydance Records.
This album influenced and changed the way I view music today. I remember my older brother singing this song over and over that was so catchy to me that I asked what it was. Then, I remember hearing that same song on the radio and had to know more about this band. I remember buying the album and worried I was going to get in trouble because it had curse words in it. I remember opening the CD for the first, reading the song lyrics and just being fascinated by how different it was than I was used to. I remember being infatuated with lead singer, Brendon Urie (and very confident I was going to marry him later in life). I remember that once I discovered Panic! At The Disco, it opened up this gateway to SO many bands and exposed me to alternative music.
A solid album consisting of 13 tracks that listening to tonight creates a nostalgic and overwhelming mix of emotions. At the time, I had never heard of an album that sounded like this. An almost narrative album that is split into two halves that has elements of electronic, punk, pop, and alt-rock mixed perfectly together.
The lyrical content and some of the more "mature" themes (I was 12 at the time of the release!) made me think A LOT. Mainly, about the meaning of the songs and why these 18 year olds from Las Vegas were singing about it.
From the Fight Club references, to making every teenage girl want to read Chuck Palahniuk's books, to wondering if "life" was really like this in Las Vegas intrigued me so much that I was sure that P!ATD was one of the greatest bands to exist.
Along with the songs as a whole, the music videos for AFYCSO are *iconic.* Their ability to capture this story and era that somehow all related by the lyrics SO well is just great. This may be the inner fangirl in me coming back out, but music can do that to ya, right?
As the years have gone by, I've still always claimed Panic! At The Disco as one of my all-time favorite bands. It's because of this record. A classic in my opinion, that still sounds as good and different today than it did 10 years ago.
Will you dance to this beat and hold a lover close?
**I could probably go one for a really long time talking about this band; I kept it somewhat brief, and encourage you to spend some time re-listening to A Fever You Can't Sweat Out.**