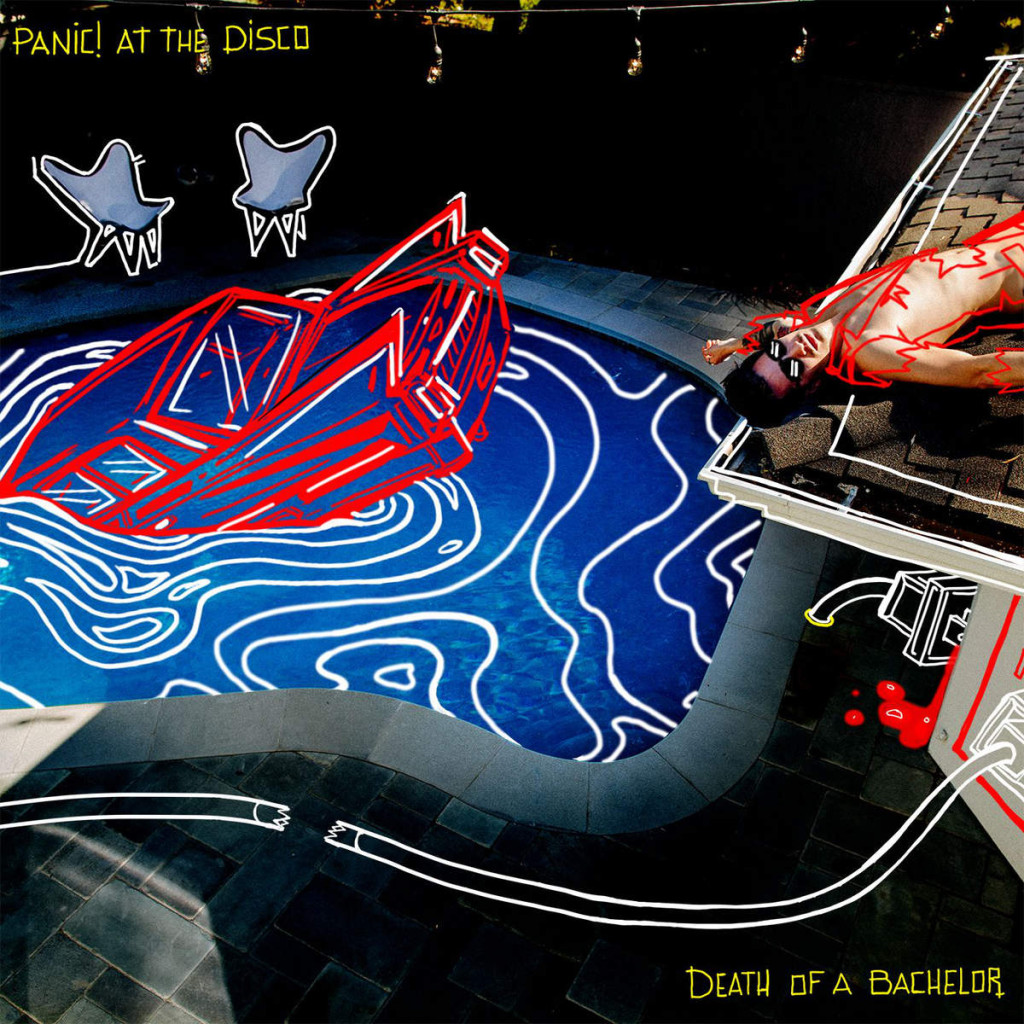 The anticipated fifth album from Panic! At The Disco starts the year off in a frenzy as it mixes Queen inspired vocals and…808 drum beats?
Click below for the (somewhat) full review! 
Panic! At The Disco is one of the those bands that at this point, I'll always love. I feel as though I've been a fan for going on 11 years now…so why stop? Despite the lineup changes and the stylistic changes, I've always listened. There's something about P!ATD that reminds me why I got into all of this. This being music. Leading up to this album, I wasn't too sure of what to expect. Spencer had left the band, leaving Brendon the only original member of P!ATD. I was worried about what kind of music would come from it all. Every album they've released thus far is notably different from one another.
The Rundown:
The album starts off on a high note as "Victorious" brings anthemic sounds that has a chorus you'll be *yelling* after one listen. Upon first listen, I enjoyed how high energy it is. Being able to hear this song live made me love it even more. "Don't Threaten Me With A Good Time," continues this upbeat spirit and samples The B-52's "Rock Lobster," which I am still not too fond of. Besides the sample, the track is a fun one. I really like how Brendon delivers some of the lyrics on this track, especially:
I'm a scholar and a gentleman
And I usually don't fall when I try to stand
And don't forget the wordplay that you will mess up even when you think you've got it right:
I've told you time and time again
I'm not as think as you drunk I am
"Hallelujah" was the first singled released in support of Death Of A Bachelor. At the time, I didn't know how to perceive it but this song has also grown on me. Out of all the singles released for Death Of A Bachelor, "Emperor's New Clothes," made me the most scared and excited. Throughout the whole album, you can find influence of Queen and Frank Sinatra. In this track, Queen is allll over it. Stylistically it was so different than what I would expect from P!ATD but it still sounded familiar. That's one of the major reasons I enjoy this new album. Even though it's a new sound, it's still a familiar sound. It sounds like Panic! At The Disco.
The album title track, "Death Of A Bachelor," gives us insight of the main inspiration of the album. Brendon Urie got married in 2013 and this album follows some of the journey of his bachelor antics coming to an end. "Death Of A Bachelor," has this weird mix of slowed down vocals with a drum track in the background that works…somehow. Moving onto "Crazy=Genius," it has a big band sound that may remind some of A Fever You Can't Sweat Out. My love for the AFYCSO runs deep, so hearing a track that has a similar feeling gave me life.
Generally speaking, I have a hard time picking favorites. When it comes to music, that task becomes way more difficult. However, I do have a favorite track on Death Of A Bachelor that all the other songs can't touch. "LA Devotee" feels like the song I've been waiting for P!ATD to write. Such an overwhelming nostalgia comes over me when listening to this. I feel that it encompasses elements from previous P!ATD songs and it just sounds right. Even though LA is clearly in the song title, it reminds me of Las Vegas. It reminds me of the original four guys trying to make it out of Vegas. I see bright lights. I feel like I should be driving into city with all the optimism in the world. Now the song may not exactly say all that (or even at all) but it just takes me to a time of when I discovered this band and I felt a lot of joy out of that. Writing about this now, the visuals for The Killers "Shot At The Night" music video come to  mind.
In the latter half of the album, the songs shift into not as high energy than the first half. "Golden Days" starts off promising but right before the chorus when Urie sings, "In the summertime," I can't help but feel disappointed that there wasn't more depth to that. More development or even another lyric could have been thrown in to build up the chorus more. "The Good, The Bad and The Dirty," has good intentions with a chorus that's oddly inspiring:
If you wanna start a fight
You better throw the first punch
Make it a good one
Inspiring in the sense that if you want something bad enough, you gotta just go for it. "House Of Memories," really only makes me think of "Memories" from Vices & Virtues..which isn't a bad thing. I find it interesting that the album ends on a somber note. "Impossible Year" is the slowest track yet showcases Urie's vocals so well. It seems like its an ode to the past and all that has happened. On P!ATD's last album, Too Weird To Live, To Rare To Die!, "The End Of All Things," is the closing track and has a very similar tone. Intentional? Possibly. I've noticed that Urie doesn't make too many "sad songs" but both of these tracks so filled with emotion fill that it feels satisfying in a way that they're both closing tracks. Playing off of the Death Of A Bachelor theme, it closes a year or chapter of Brendon Urie's life.
Final Thoughts
This album has been on repeat since the day it was released. I'm glad despite everything that has happened, Panic! At The Disco continues to make music. It's definitely worth a listen whether you're a new or old fan.
Want more? Go buy the album! 
Right after the album dropped, Weezer and Panic! At The Disco announced a massive summer arena tour with Andrew McMachon In The Wilderness as support! Check out the dates to see if they'll be in your area! Find me in the pit of the Virginia Beach date.