Simply put: one day at the National Museum for African American History and Culture (NMAAHC) is not enough. At all. I'm amazed at how much I saw and have been wanting to go back ever since! I went up to the D.C. area for Fourth of July weekend. With my office being closed that Monday-Wednesday, I took the opportunity to plan this last minute trip and enjoy the extra long weekend. My family and I got to the museum around 11am, taking the metro into D.C. Just the structure of the museum is astonishing. Ever since it has opened, it has been on my list of never-ending things to do in D.C.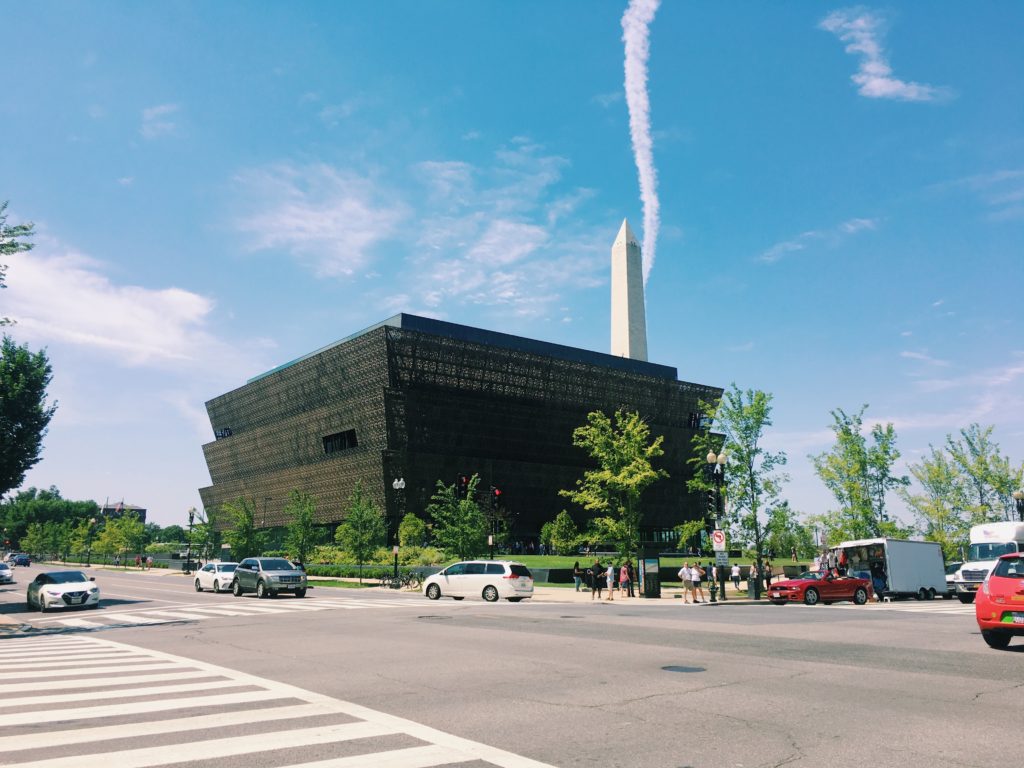 After getting into the museum, my mom, brother, and I decided to start of with the lower level concourse that has three levels within itself. My dad decided to check out the Family History Center part of the museum. I knew there was a lot to be seen and quickly realized we would be at the museum until it closed at 5:30pm that day.
An overwhelming amount of history surrounds you when making your way to the different levels. The lower level layout of the NMAAHC on starts off with slavery and progresses to the present day. It's divided as: Slavery and Freedom (1400-1877), Defending Freedom, Defining Freedom, The End of Segregation (1876-1968), and A Changing America: 1968 and Beyond.
Spending about three hours on the lower level, I felt a wide range of emotions. Seeing a visual progression that Black people have made throughout time is so amazing. I even got teary-eyed looking at some exhibitions because it didn't hide anything; the truth and history was laid out right in front of me. Everything from the slave trade to the civil rights movement to present day issues, the NMAAHC covers it all. One of the most profound moments was seeing Emmett Till's casket. In a more secluded section on one of the levels, in a no camera/video area, showcased Till's casket, his background, and how his mother, Mamie Till, carried on his story after his death. A setting like that is so rare to come across and I'm glad I was able to view it.
Halfway through our time there, the fam and I had lunch at NMAAHC's very own Sweet Home Cafe. The food is bomb and isn't priced too bad. The menu is divided up based on different areas of the states and dishes you would find in those places.
After stopping by the museum store to pick up some souvenirs (I of course had to get a t-shirt), we headed up to the Community and Culture Galleries. These two levels had some of my favorite exhibitions. Being the person I am, I was soooo excited to view the arts and music section where artists' work was highlighted and shown. Working in the music industry as a half Black, half Filipina woman has had its challenges. However, being surrounded by all the work these great artists have made and what impact it has, was comforting and reminded me that I'm doing alright.
Pretty much the whole time I was in the NMAAHC the thought of, "I love Black people," kept coming to mind. It's almost hard to put into words, how there's finally a place where this culture is being celebrated and getting the attention it rightfully deserves. Being surrounded by so many people from different states and backgrounds was nice to see as well. A very inspiring place to visit to say the least and a bunch to soak in.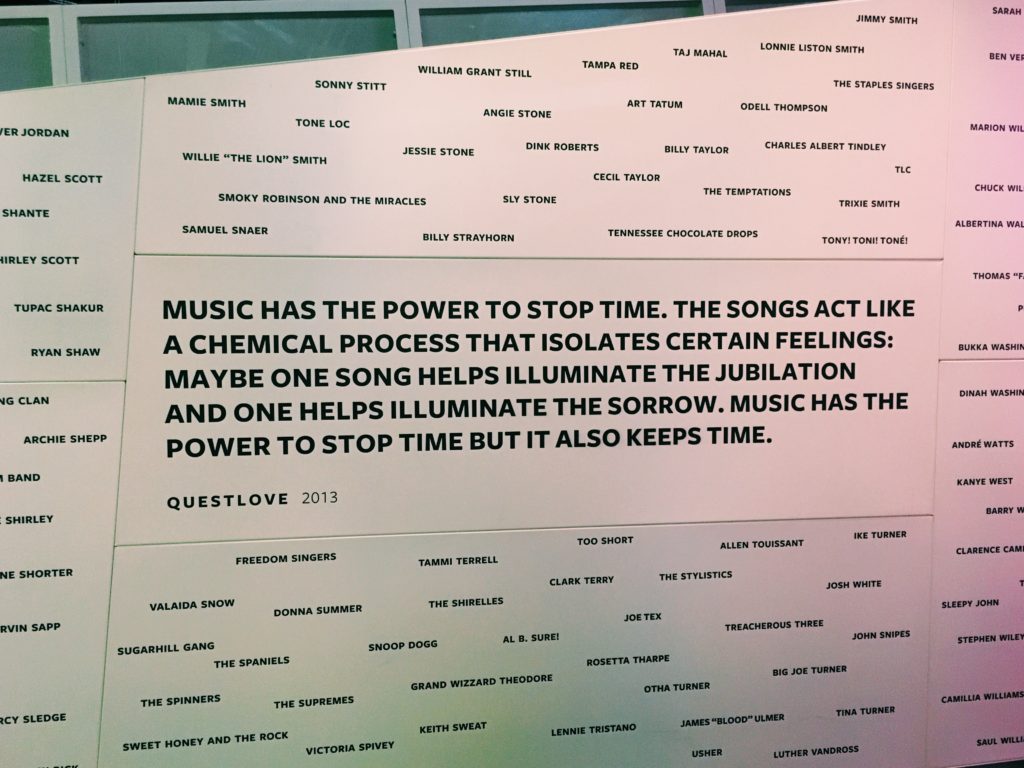 Being in an environment like this really does make you think. Think of where we are now. Think of how while there has been progression, there is still so much work to do. In lieu of recent events, specifically in Charlottesville, Va there's still an alarming (yet not surprising) amount of racism, hatred, and straight up terrorism going on in our country. It's been frustrating to see what has evolved the past couple days in the U.S. Frustrating of how a person can hate someone so much just because of their skin color. I know this isn't new (and if it is to you…you're apart of the problem), but it's times like this where you really reflect on the state of humanity.
For the sake of my mental health, I wanted to channel some of the frustration I have been feeling with all of this and reminisce on something good; this trip to the NMAAHC specifically. At the end of the day, I wanted to just think about how great Black people are through everything.
If you have the chance to visit the NMAAHC, I do definitely recommend it. Also, try to get a pass for the morning/early afternoon. You're going to want to spend the entire day there!
It looks like I'll be back in D.C. in a few weeks for Labor Day. Let's see what new places I explore then!