I turned 24 on August 28.
Crazy, right?
Upon reflecting on this past year, a lot of growth and change has happened. Some of which was hard to deal with, but that's life. I have felt really good lately and am excited to see what this year brings!
I knew I wanted to go to California to visit my brother and sister-in-law. I haven't seen them since their wedding last October and was due for another trip! Every time I go to California, I fall more and more in love with it. There's something about the mood it puts me in that is so satisfying. Wanting to utilize all the time possible during my 5 day trip, I tried to do and see as much as I could.
There were three things I had to do on this trip:
Go wine tasting
Get a tattoo
Go hiking
I'm happy to report that I succeeded in these things and more!
 Day 1
I flew into Oakland, where my brother picked me up and we stopped to get some Thai food before driving into Sonoma. Prior to my flight I hadn't slept in about 23 hours. Luckily, I can sleep on a plane with ease so I was able to get a few hours in. After settling in and being greeted with lots of kisses/jumping from my brother Dom, and sister-in-law, Jess's, two lovely golden retrievers, it was time to make a plan for the night. Keeping it simple, we decided to go to one of their favorite spots, Rancho Maria. It's a wine tasting room in the middle of Sonoma's square (where a bunch of local shops and restaurants are located.) The wine maker, Sebastian, is super laid back and I got to pick some of the music for the room! A somewhat odd combination of Drake (of course), Missy Elliot, Cardi B, and Cozy Tapes 1 & 2 were played throughout the night. I would like to mention that I got Sebastian hip to Bodak Yellow. I even played it twice. Rancho Maria is known for their Zinfandel wines, and I must say it's really good. After Rancho Maria, we hit up my *favorite* place, Whole Foods, to pick up items to BBQ with for dinner. Since I had spent a good portion of the day traveling, the night ended early for me as ya girl was tired!
Day 2
Waking up knowing I was in California was such an amazing feeling. Our second day consisted of exploring more of Sonoma and what this small town had to offer. We went back to the square, where we explored the multitude of shops. I stumbled upon one store, Love Sonoma, and knew my bank account would not be happy with me. It was the cutest, little store consisting of wall decor, prints, candles, books, clothes, and jewelry. A store like this was right up my alley! I picked up a few things that were local to Sonoma.
A visit to a local art gallery and another wine tasting room, Bennett Valley Cellars, took up the first part of the afternoon. Bennett Valley's Tasting Room Manager, Liliana, was so sweet! I got to hear about her life in Italy before moving to the states. After a visit to the nail salon (#birthdaytings), the day continued with even more wine and shopping.
Once it came to dinnertime, I was excited to try out a place I found on Yelp, Taste of the Himalayas. From the reviews, the restaurant was pretty popular and a local favorite. The food was AMAZING and our waiter was super helpful in letting me know which dishes were vegan! We took home a bunch of leftovers because the food was so filling (we also did order 3 appetizers + entrees…so there's that).
Day 3
Sonoma is only about a 45 minute drive from San Francisco. I wanted to finally cross something off my bucket list and see the Golden Gate Bridge! We started the morning off, dogs in tow, trekking to the Marin Headlands area. The Headlands are on the peninsula that overlooks the Golden Gate Bridge and there are even a few trails to hike in the area. When we finally found a parking spot, I was in awe of the view! It was very foggy that morning and I couldn't get the full view of the bridge, but was able to see a good portion of it. Due to one of the main trails being closed for maintenance, our hike was cut short, but nonetheless still a great time.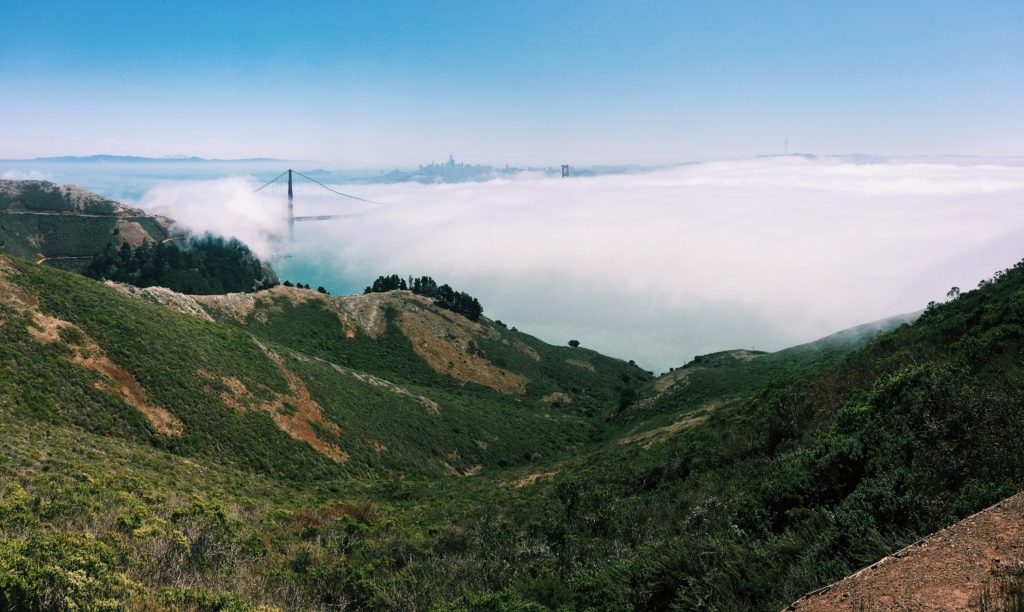 Needing some post-hiking food, fro-yo was obviously the best and healthiest choice (I was very hype about this.) We went to Pressed Juicery which is one of those places I've seen all over Instagram, and got one of their "freezes"— basically their version of fro-yo, but vegan.
After getting back into Sonoma, we chilled for a bit, and headed out to a winery (you already know that was gonna be in the plans for today). Dom and Jess are members of a handful of wineries in the area, and we decided to go to one of my favorites, Larson Family Winery. Last summer, I flew out to CA for Jess' bridal shower and Larson was one the spots we went to. They have such a pretty outdoor area for tasting and a picnic-like setting. There's even a bocce ball court that I low key dominated in during the bridal shower.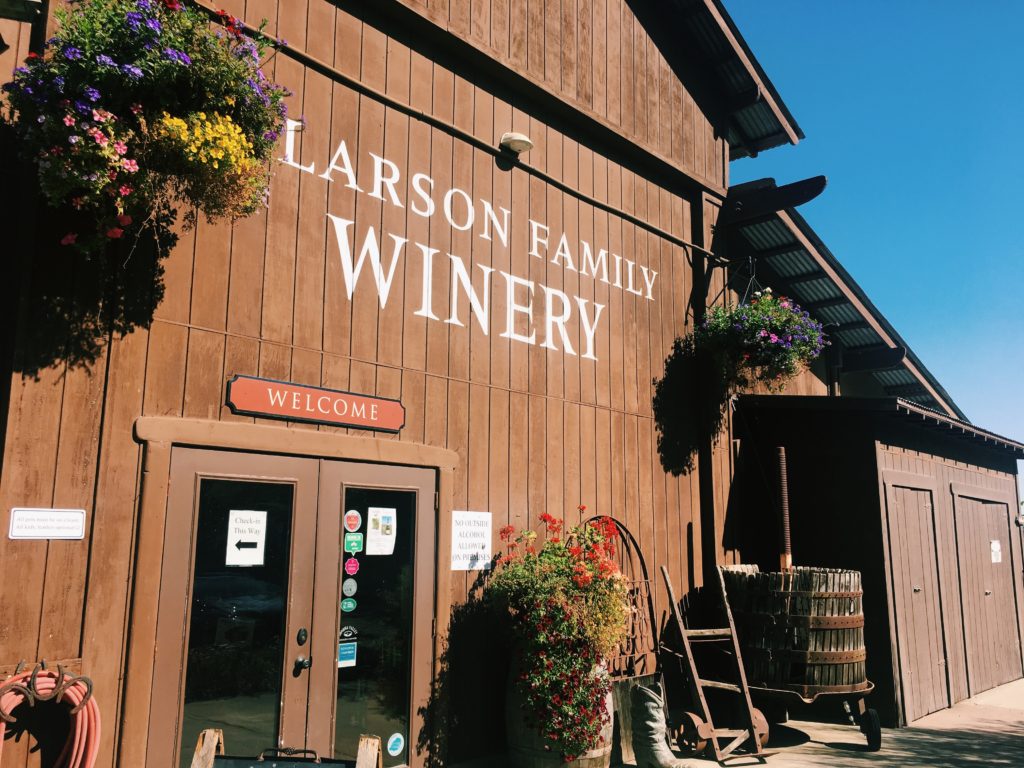 Day 4 (AKA 24TH BIRTHDAY LITUATION)
So I guess turning 24 means that I am now in my "mid-twenties." This makes me feel old (ha). Waking up to birthday greetings from my people on the east coast was a nice way to start off the day. The embarrassing pictures of me posted mainly to Instagram and Snapchat from my closest friends kept me laughing and helped bring some of my nervousness down. I was excited yet nervous, because this year my gift to myself was a tattoo! My first one, in fact. I found a tattoo shop in Sonoma and talked to their owner about my idea a couple weeks prior to my trip. Dom and Jess kept me calm, as I filled out the paperwork and it set in that I was going to get tatted (so dramatic.) My tattoo was fairly simple. The latin phrase, deus ex machina, handwritten by me on the back of my arm. There's a lot of meaning I attribute to this phrase, but to keep it short, it's a reference to one of my favorite movies, Donnie Darko. Getting the tattoo done was definitely an experience. I kind of knew what to expect pain wise but still didn't really know because I never had one done. I will say though, it was bearable. My brother joked that I kept making faces during the process (which took probably less than 5 minutes). Once I was bandaged up, we went to (you guessed it), more wineries!
The last winery I visited on this trip was to Schug Winery. Dom and Jess are friends with the Manager of Hospitality there, Harrison. When we told him it was my first time out here and my birthday, he gave us an impromptu tour of the winery! This isn't normally done, so it was cool to get a behind the scenes look at everything. We took a tour of the land the winery owns, saw the almost catacomb like storage of all the barrels, and tasted some fancy wines! Shoutout to Harrison for gifting me a bottle of their Rouge de Noirs, a sparkling pinot noir (which was my favorite wine I tried there) and knowing who Brand New was.
Leaving Schug, it was time to start getting ready for my birthday dinner! I didn't want anything outrageous, simply dinner with Dom, Jess, and Jess's parents. However, with it being me, I had to be extra and go all out on my outfit. While waiting on Jess' parents to meet up with us, we stopped by SIGH., a new "bubbles only" bar. My younger brother, Jordan, who couldn't make this trip sent funds via Venmo so he could buy me a birthday drink (so nice) and this was the perfect place to have one at. SIGH. only serves champagne, wine, and a few select beers. A crisp, open, yet small space that was full of mirrored quotes…the aesthetic of it all gave me LIFE!
A glass of sparkling wine and champagne later, Jess' parents joined us and we went to The Girl & The Fig. This restaurant was a last minute pick, and I didn't have a chance to look over the menu. Unfortunately, there weren't any vegan entrees, but our waiter worked it out with the chef and they made me a custom meal. It felt so nice being with my family out there and Jess' parents not so casually mentioning how I should move to California!
Day 5
After a very eventful few days in Sonoma, my time there soon came to an end. A flight leaving from Oakland the next day in the early afternoon, only left enough time to finish packing and hanging out with the pets. I've been plotting my next trip already (can never stay put for too long!) and will hopefully be heading out to L.A. and the Bay area right around Christmas time.
If there was any indication of how much fun I had, I went to Patient First the next day and found out I sprained my ankle. Whoo!