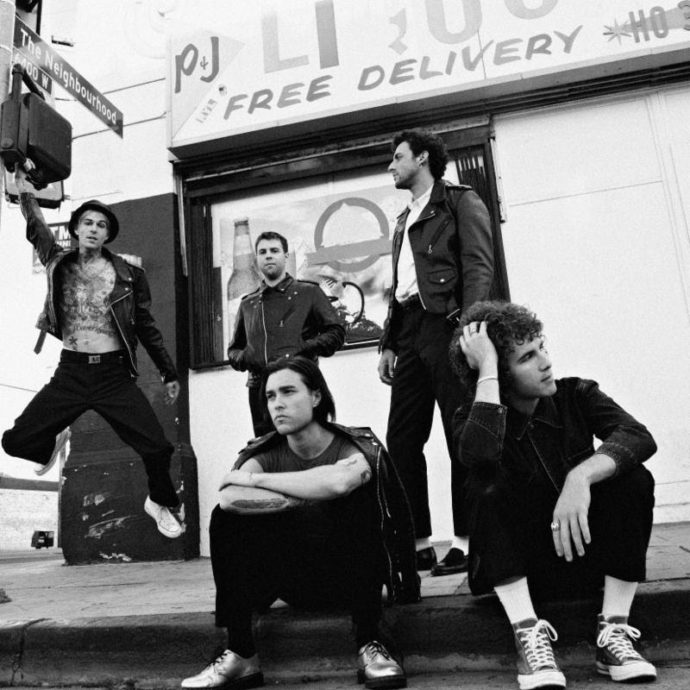 Right before my obsession with The 1975, The Neighbourhood introduced to me the thematic element of a band being seen in black and white. From their first music video, "Female Robbery," the band has been rarely seen "in color." Even during their live performances, they pretty much always used dark and dim lights on stage. Unlike, The 1975, The Neighbourhood has kept this up throughout the last five or so years. I was a fan pretty early on, when "Sweater Weather" was released and have bought albums, vinyls, merch, and have even seen the band around three times so far.
You've probably heard "Sweater Weather" at least once from the band my friend calls, "the upside down house band!"
Frontman, Jesse Rutherford has carried the band throughout its different phases. After the band's 2013 debut album, I Love You., a transition could be heard. In The Love Collection EP, released afterwards, a lot more influence from hip hop is shown and continues onto the #000000 & #FFFFFF EP. With features from rappers YG, Danny Brown, French Montana and G-Eazy, I was excited at what was coming into fruition. Mainly because two of my genres collaborated in what I think is a solid project. A year later in 2015, Wiped Out! arrives and it didn't click with me right away. Lead single, "R.I.P. 2 My Youth," had the vibe I was looking forward to but just something put me off from listening to the whole album for a minute. I suppose with the band going "back" to more melodic sounds instead of this sing-rap thing Jesse does, it just went to the back burner for me. Eventually, I came around and still like majority of it. This same instance of where I didn't automatically listen to the new music happened again with the releases up to The Neighbourhood. Between the latter half of 2017 and March 2018, we received three EPs: Hard, To Imagine, and Hard to Imagine.
I think there's this perception around self-titled albums that it's supposed to showcase the artist as they truly are; at their best. Being that this is the third album from The Neighbourhood I was interested to see what "their best" was like. I started listening this to while on a flight last week to California (how fitting). As a whole, I'm not mad at it! Prior to listening, I wouldn't say I was excited. I was just like, oh they have a new album coming out. I think the band explored and experimented a bit but stayed pretty spot on with what is known to be their sound.
Out of the three EPs before the album, which all feature songs from The Neighbourhood, I listened to maybe two songs and saw one video. Before I showed interest in getting back into the band, they had announced the album and I figured I would listen to it all then. One of the appeals of this band is the imagery I get. In part because of the whole black and white theme, but also there's this nostalgic feeling in general with their songs. After giving this album a few listens… I'm into it.
*pulls out NBHD merch from closet*  
The album starts off vibrant with "Flowers and "Scary Love" giving listeners a nice upbeat sound to dive into. "Scary Love" is sooo good and I'm glad its the lead single. With this song, the music video presents something new for the band as well: color! The video was released last week and is the first one in color (which is a *big* deal). It shows that this is a new era for the band.
"Softcore" is hands down my favorite on the album. When I was half alseep on the plane, I remember when I heard it I had to open my eyes to see which song it was. The synths on it are playful and put me in a good mood. The usage of synths and more electronic sounds was new to hear but also makes sense at the same time. The Neighbourhood isn't afraid to try new things; they just never stray too far away from their zone. Proceeding "Softcore," you get tracks "Blue" and "Sadderdaze" that bring you back into it.
There really isn't a defining moment on the album for me. There are songs I'm loving right now and songs I can see myself skipping over. "You Get Me So High"  and "Stuck with Me" are standouts that kinda feel like a dream. A muffled, cloudy, black and white dream if you will. "Revenge" and "Too Serious" are ones that haven't made too much of an impression yet.
Something I wondered about when listening was, is this all the band can do? It seems like people are criticizing the range of the band musically. How many more sing-rap type songs can you make that allude to California, the past, relationships, etc? Depending on your perspective, it could defer you away from this album for sure. Maybe that's why I wasn't necessarily looking forward to the album. Was it going to be the same stuff I've heard the past few years? On that same thought though, maybe that's what makes The Neighbourhood the band they are. This is their sound and on their self-titled album they are confident in presenting that (at least I hope they are.) As a fan, this new chapter for the band leaves me curious. Curious to see how this album cycle will play out, how their live shows will change, and if they'll ever garner the success they received from I Love You.
The band will head out on their US tour starting in April and you best believe I'll be seeing them again. Give the album a listen below & let me know what you think!